With the experience gained in the construction of the Tirohia, Silverstream, Naboro, and Rotorua landfills, Leach & Co have the resources, knowledge, and expertise to complete landfill construction projects in challenging and varied conditions. Knowledge of the use of modern liner systems, landfill gas control, and landfill operations allows Leach & Co to provide a complete solution as well as work in with ongoing day to day landfill operations.
The Leach & Co team that built the following major state-of-the-art modern landfills in New Zealand, all built to the highest specifications, including composite lining, leachate and gas collection systems are now with Leach & Co.
These types of waste industry sites present a range of challenges and hazards that require specialist knowledge.
SILVERSTREAM LANDFILL
HG Leach was awarded the Silverstream Stage Two landfill construction contract for Hutt City Council. This modern Class A lined landfill was constructed below the existing Stage 1 landfill site in Silverstream, Hutt valley, Wellington. The challenging site required careful management of on-site storm water and its varied rock types. The site consisted of a steep forested gully requiring clearing and benching. Fault lines and damp conditions called for careful planning and tidy earthwork practices.
The Silverstream Stage 2 landfill is a composite Compacted Clay Liner, Flexible Membrane Liner and Geosynthetic Clay Liner lined landfill. Phase one consisted of significant earthworks, leachate drainage system, reinforced earth walls, ground anchors and composite liner.  Leach has since completed the ongoing earthworks and lining stages of this modern state of the art landfill.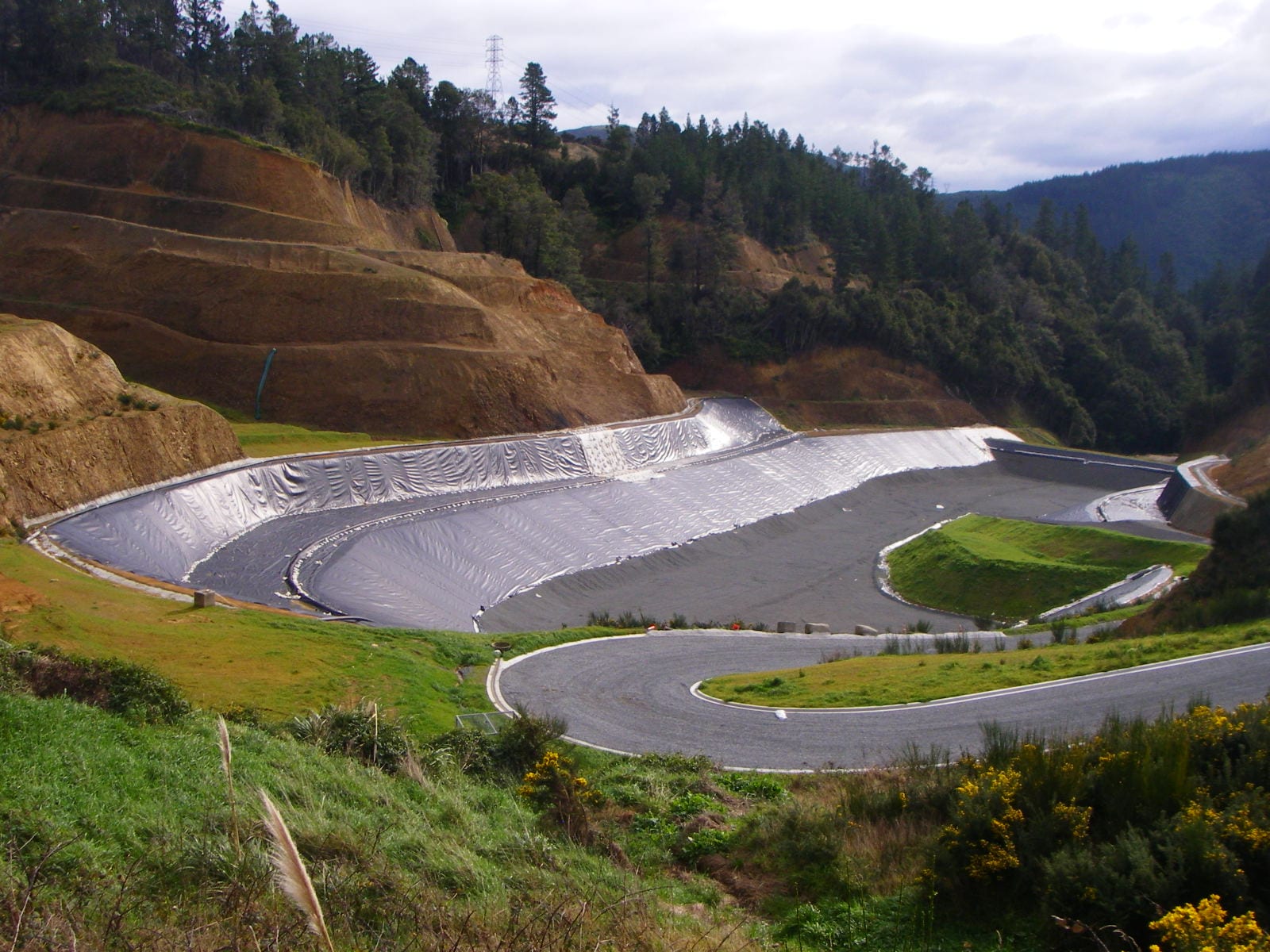 NABORO LANDFILL
Leach & Co has built the majority Naboro Landfill, Suva, Fiji for the Department of Environment, Government of Fiji. The Naboro Landfill is a Class A Landfill, built to the highest specification, including composite lining, leachate collection and treatment facilities. Naboro is the only modern, high-standard landfill in the South East Pacific islands. The Naboro Landfill is operated by HG Leach (Fiji) Pte Ltd/Pacific.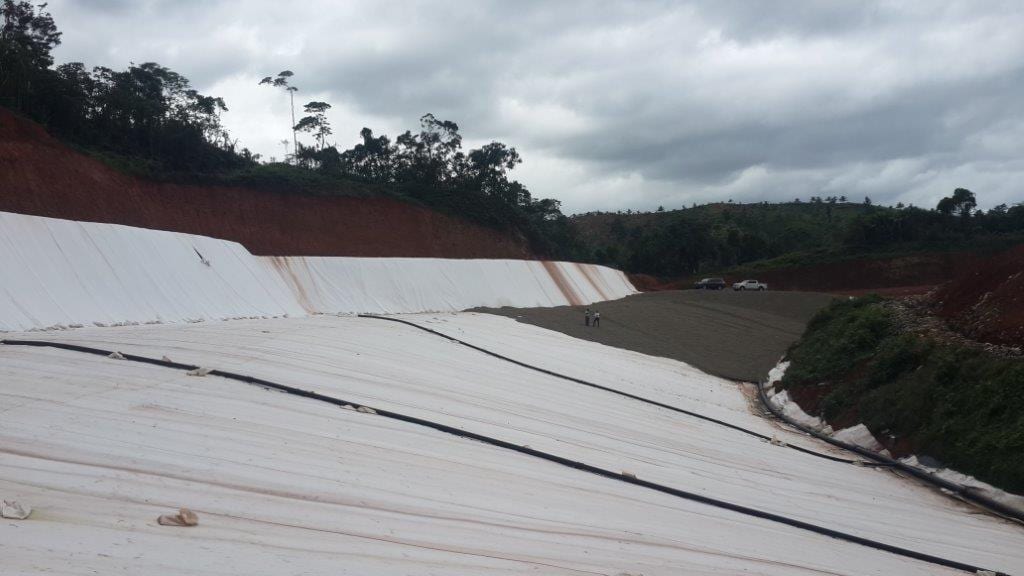 TIROHIA LANDFILL
Built in the exhausted pit area of the Tirohia quarry site operated by HG Leach until sold, this modern sanitary landfill comprises of a composite CCL/FML base and sprayed polyurea lined shotcrete sloped faces. This special liner type is well suited to the insitu rock slopes and also cost effective due to the minimised earthworks required. Construction of stage one took 12 months from beginning to end including engineered toe bund, leachate control infrastructure, leachate storage ponds and access road realignment.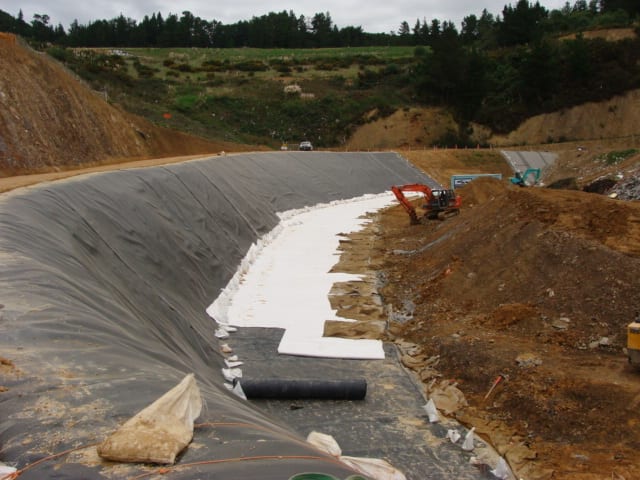 CLOSURE AND REMEDIATION
The diversification of HG Leach into the solid waste business in 1999 coincided with the closure of numerous dumps and small landfills in the region, most recently the Coromandel Landfill. The introduction of the RMA (Resource Management Act) required all local councils to either upgrade or close many of the small disposal sites and to engineer these to sufficient standards to ensure environmental compliance.
This significant change offered HG Leach the opportunity to further use its skills, knowledge and resource base to make the most of contracting opportunities in the waste industry.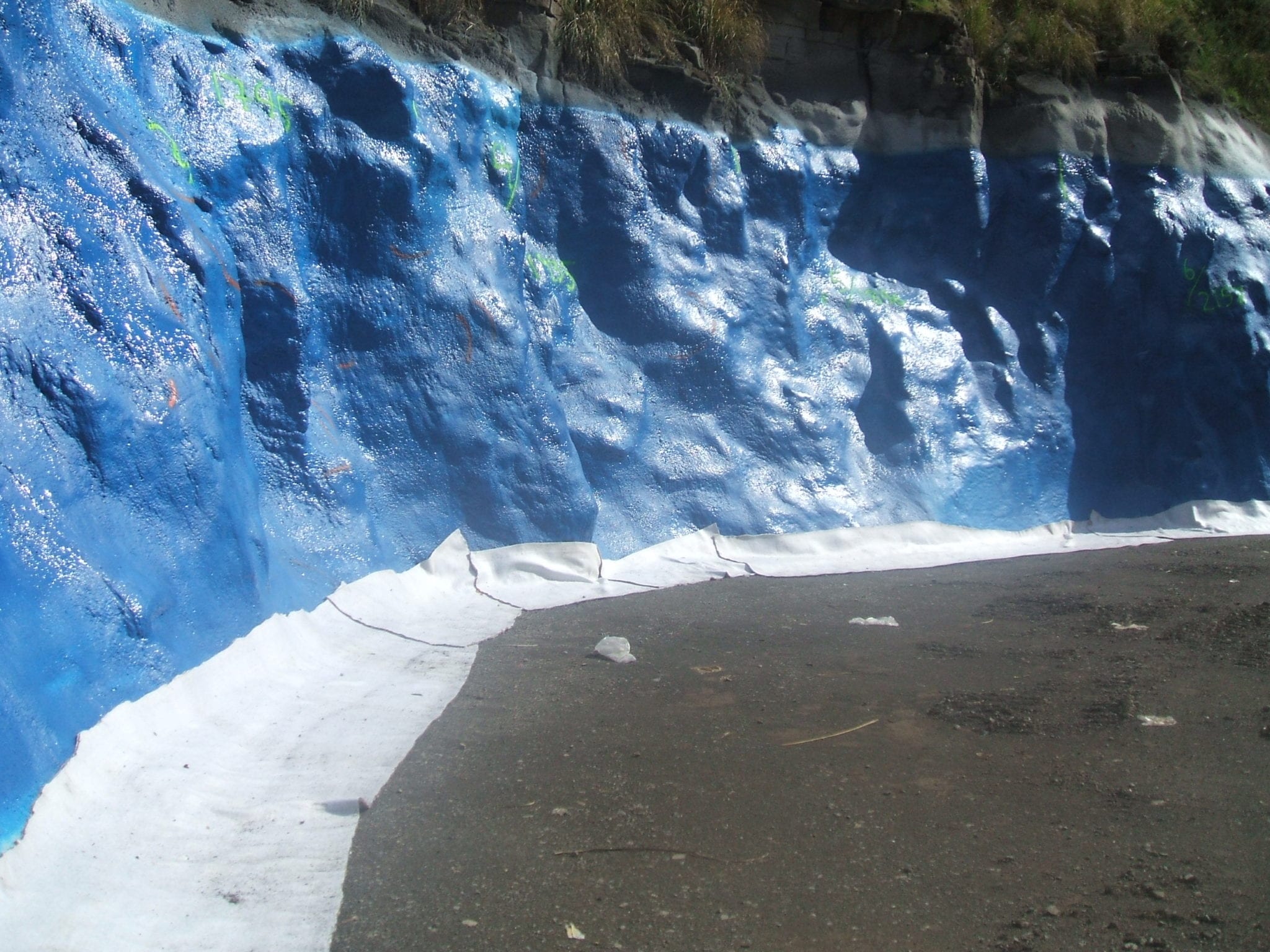 CONSTRUCTION EXPERIENCE
CCL, GCL, FML Liner Systems
Compacted Clay Liner (CCL), Geo-synthetic Clay Liner (GCL) and Flexible Membrane Liner (FML).
Shotcrete, GCL, FML Liner
Shotcrete, Geo-synthetic Clay Liner, Flexible Membrane Liner.
Shotcrete, Polyurea Liner
Shotcrete, Sprayed Polyurea ~1.5mm thick
Reinforced Earth Walls
Earth anchored Geogrid reinforced walls with a sprayed concrete facing for lining. 
Ground Anchors
Drilled, concrete grouted and stressed earth anchors in earth faces where unstable of fractured material exists.
LANDFILL GAS
Leach has installed and upgraded various Landfill gas collection systems including Tirohia landfill, Rotorua Landfill, Bluegums Landfill (Marlborough), Omaranui Landfill (Hawkes bay) and Southern Landfill (Wellington). These contracts require specialist expertise to carry out work in the following areas:
Gas well installation
Condensate trap installation
Gas line network installation
Gas field commissioning
Gas field tuning
OUR ENVIRONMENT
Leach & Co is committed to ensuring our environment is preserved for future generations to enjoy. Community involvement and minimal environmental impact at all levels are key aims of all Leach & Co's operations.
Environmental Management of Landfills
Environment and landfilling are not ideas which you would often link together. Waste management and Landfilling are industries where there is ever-present risk of negative environmental effects and this is why Leach take elimination, isolation and mitigation of these risks very seriously. The company is committed to its  Environmental and Sustainability policy to ensure that every aspect of the business is controlling its environmental effects to the highest standard.
ISO 14001
ISO 14001 is a voluntary internationally recognised standard designed to help organisations from any discipline to identify environmental impact, minimise that impact, comply with local authority rules and regulations and identify a roadmap for continual improvement in these areas.
Leach & Co Ltd identified ISO 14001 as a tool relevant to our operations and proceed to secure accreditation ensuring we have strong environmental management systems in place and that we minimise our environmental effects to an internationally recognised level. Leaches management system for the NZ based activities are certified to ISO 14001: 2015.